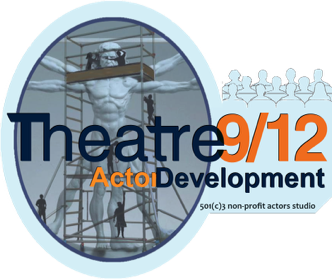 THEATRE9/12 is a 501(c)3 not-for-profit actors' studio for continued training and the faciltation of actors' productions
Artistic Director: Charles Waxberg
Artistic Associate: Terry Edward Moore
Producing Director: Paul O'Connell
Production Manager: Michael LoSasso
Charles@Theatre912.com (206) 332-7908

A world premiere that starts you laughing and leaves you thinking!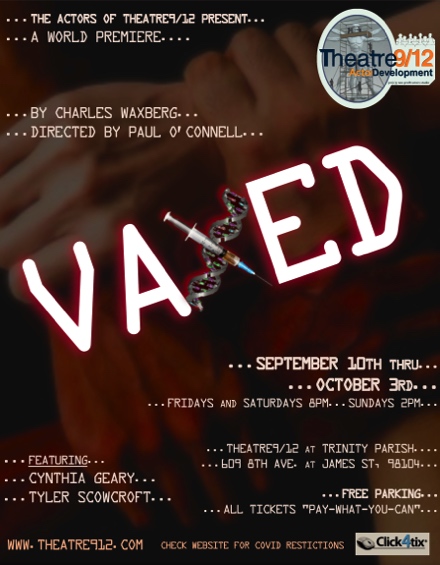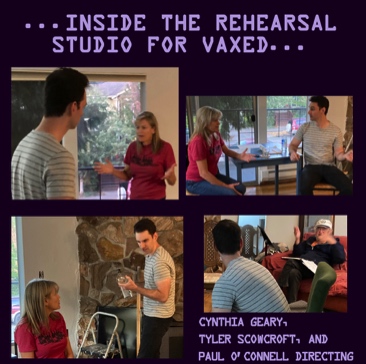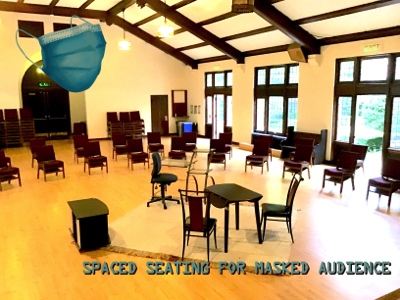 VAXED is a continuous, real time, play scrutinizing racism but without enemies, promulgation, didacticism or reproach. The 3a.m. conflict between two renowned scientists, brother and sister, aims to stimulate thought and conversation post performance as audiences identify and imagine themselves facing those characters' final choices.
Directed by Paul O'Connell (Seminar, Death of the Maiden) and featuring Cynthia Geary (Blithe Spirit, Death and the Maiden, Emmy Award nominee) and Theatre9/12 member Tyler Scowcroft (Six Degrees of Separation), VAXED—which is often comedic as the siblings attempt scientific rationale at a high-emotion crossroad—"is deceptively constructed like a stepped laboratory experiment," Mr. O'Connell observes.
OPENING NIGHT REQUIREMENTS and Opening Weekend
We are asking audience to to please:
—Wear your mask when you enter.
—Show your vaccine validation, dated two weeks prior to show date when you check-in.
Theatre9/12 will:
—Limit audience in well-spaced seats to roughly 46 (space capacity well over 100)
—Place your seat choice from eight to 12 feet from the acting area
—Greet audience and serve concessions masked and distanced.
—Post actor and crew vaccine proof by the entrance.
Theatre9/12 will obey ALL potential conditions following Covid/Delta state and CDC guidelines.  Check here the night of performance for current updates for the performance attending.  We will rechedule or refund all tickets for postponement.