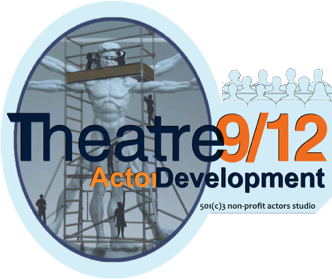 THEATRE9/12 is a 501(c)3 not-for-profit actors' studio for continued training and the facilitation of actors' productions
Artistic Director: Charles Waxberg
Artistic Associate: Terry Edward Moore
Producing Director: Paul O'Connell
Charles@Theatre912.com (206) 332-7908
In-person auditions will be held Wednesday, August 23rd with appointments from 6pm to 10pm
Please click "Contact/Directions" for location and parking information.
Requested Audition Details
Actors will be asked to prepare 2-3 minutes of monologue by any playwright from Ancient Greece, to last week anywhere on Earth.
Choose what arouses your talent and passion and ignore industry limitations or castability.
Please present as much of your range as possible in this limited time.
Send any supporting files, resumes, and/or links to: Members@Theatre912.com
Every application will receive a swift(ish) response.
As theatre is about attempting to reveal the full-spectrum of human life, Theatre9/12 embraces the full-spectrum of humanity every way we identify ourselves. We select members solely on professional experience, commitment to growth, and their humble devotion to serving all people through their experiences and talent.